Explore one of Pittsburgh's hippest neighborhoods: Lawrenceville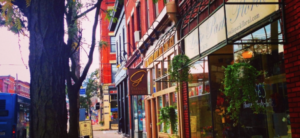 photo is courtesy of Lawrenceville Corporation.
If you're looking for a neighborhood with a strong history and modern touch we have you covered. We'll introduce you to the creative and ingenious neighborhood of Lawrenceville.
Traveling only a couple of miles away from Downtown Pittsburgh one will enter the huge and historic neighborhood of Lawrenceville. Lawrenceville is well known for its immense business district which features everything from small coffee shops like Espresso a Mano to a single screen movie theatre named Row House Cinema. You will not have a single trouble finding a hot new event or a stylish shop to stop by while living in Lawrenceville.
Over 10,000 people are lucky enough to call Lawrenceville home. The neighborhood is separated into three different areas. These areas are Lower Lawrenceville, Central Lawrenceville, and Upper Lawrenceville. For more information about the neighborhood and history of Lawrenceville be sure to visit both Lawrenceville Corporation and Lawrenceville United.
LAWRENCEVILLE, PA 15201 
There is no shortage to great food and drinks while in Lawrenceville, here are a couple of our favorite spots.
3801 Butler St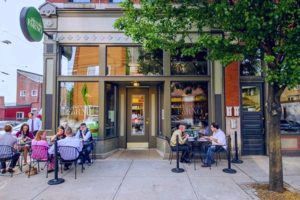 Photo Courtesy of Piccolo Forno
Piccolo Forno is a Tuscan Italian restaurant in Lawrenceville. They use only the best ingredients to recreate traditional Tuscan dishes like handmade pasta, wood fired pizzas, delicious gelato, and much more. The chefs always keep the words "Fare Tutto con Amore" in mind, which means "Make Everything With Love," while crafting these delicious Tuscan dishes. Be sure to stop by the bar Grapperia right around the corner after visiting Piccolo Forno.
Hours: Tuesday— Thursday: 11am — 10pm
Friday — Saturday: 11am — 11pm
Closed Sunday & Monday
4635 Butler St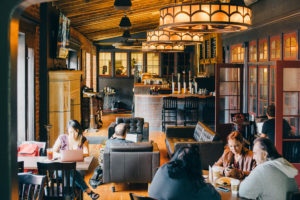 Photo Courtesy of Abbey on Butler.
The Abbey on Butler Street features not only a full-service bar and restaurant, it is also the home to a coffee house. With business hours ranging from the early morning to late night, one will always feel satisfied no matter what time stopping by The Abbey. Come by with friends for a drink and dinner or come alone to enjoy the outside patio with a fresh cup of coffee.
Be sure to check out these other great restaurants and bars!
There is something for everyone in Lawrenceville and always a new event going on. Enjoy a new free Bay 4 Live concert series starting on August 13th or one of the many pop-up art galleries with events happening weekly.
At The Ralston Team we have fantastic relationships with real estate agents in Lawrenceville and beyond. Please let us know how we can help you with your mortgage needs, and assist you to find the best real estate agent in the region.